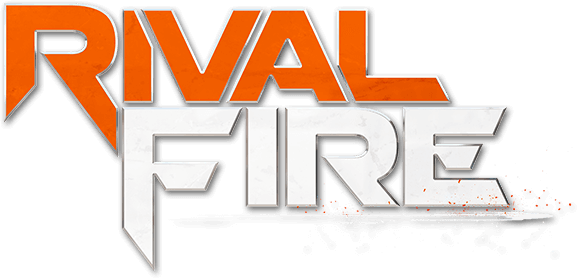 A mobile, cover-based third-person shooter called "WeFire" in China and it was developed by Tencent. It is a hugely popular and a #1 chart topping hit in China, South Korea, and Taiwan. Glu partnered with Tencent to localize WeFire and release it in the United States and Europe.
COMPANY
Glu Mobile / Tencent
After v1.0 released, we found a large percentage of players were not upgrading weapons and armor and those systems were a main source of revenue. We conducted player surveys that returned feedback users were not understanding the upgrade process for weapons and armor. As a result, we analyzed the top performing games in the shooter genre and found they use much simpler upgrade systems. Our game utilized complex upgrade systems based on RPG (role playing game) mechanics popular in China. In addition, there were lots of superfluous items and pertinent information hidden from the player. Our conclusion was the RPG mechanics in our game didn't resonate well with a western mobile shooter audience and we needed to redesign it for the next update in order to improve revenue.
The Before
Previous Screens
01
Each upgradable component was represented by the icons on the bottom of the screen. When a user taps one, a window popped up where he or she can purchase the upgrades (image #3).
02
It was difficult to identify the relationship of the component and the attribute the user was upgrading because the levels of the individual attributes were hidden in a subview many people were not finding.
03
This window had too many elements which could lead users into many different directions. We needed to emphasize purchasing upgrades by keeping users in an upgrade loop.
The After
Upgrade UI Redesign
For the next update of Rival Fire, we decided to remove the superfluos elements of the old screens and highlight the item's statistics to encourage upgrading. We grouped the component button with its corresponding attribute and made less friction for upgrading because the old design was heavy on text and lacked a complete loop for players who fell short on resources. If players didn't have enough resources, they were forced to leave the upgrade loop and go to the game's store or earn them through playing more. We completed the upgrade loop by adding the ability to purchase missing resources using the game's hard currency. Updated designs and a flow diagram of the upgrade loop are below.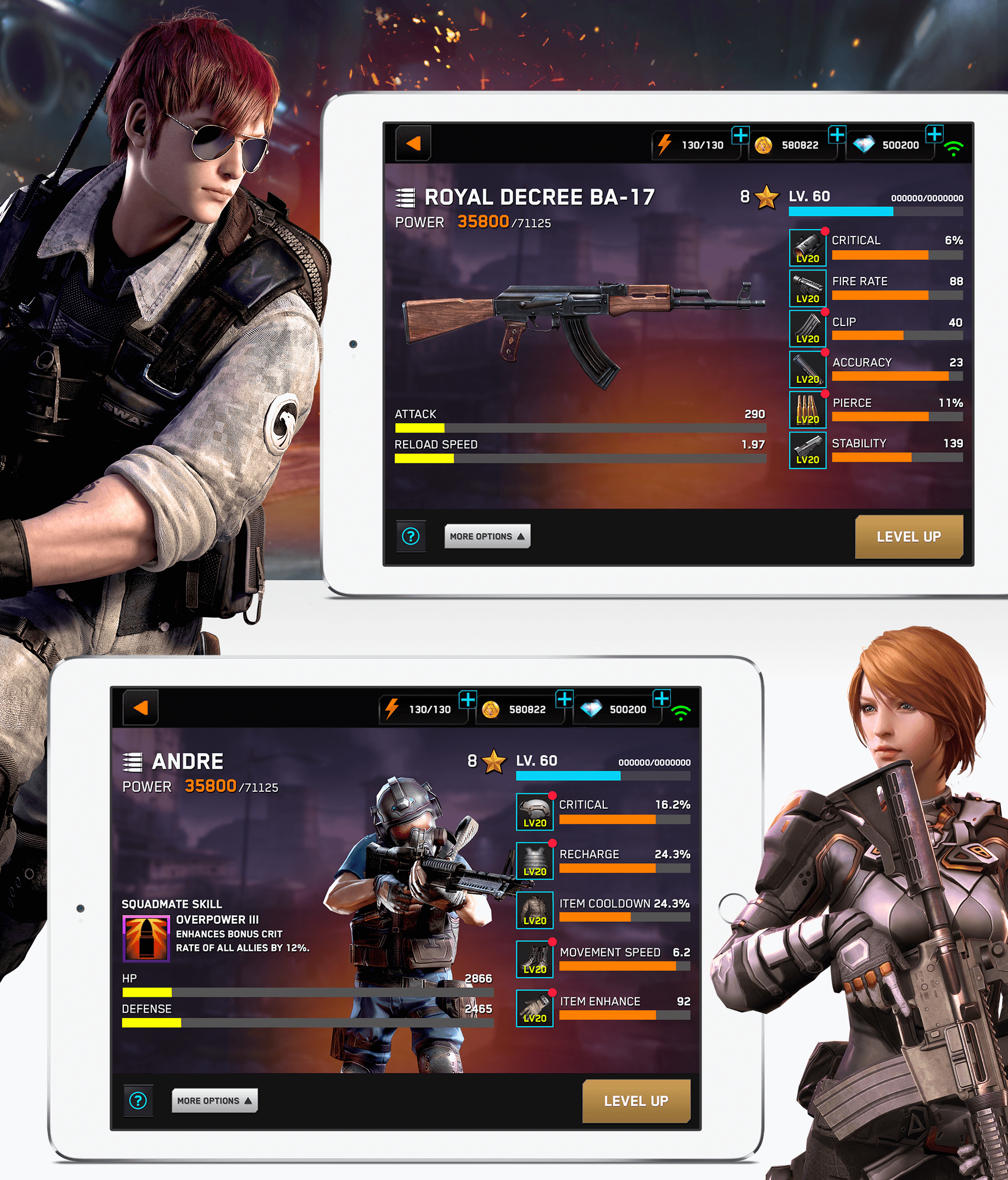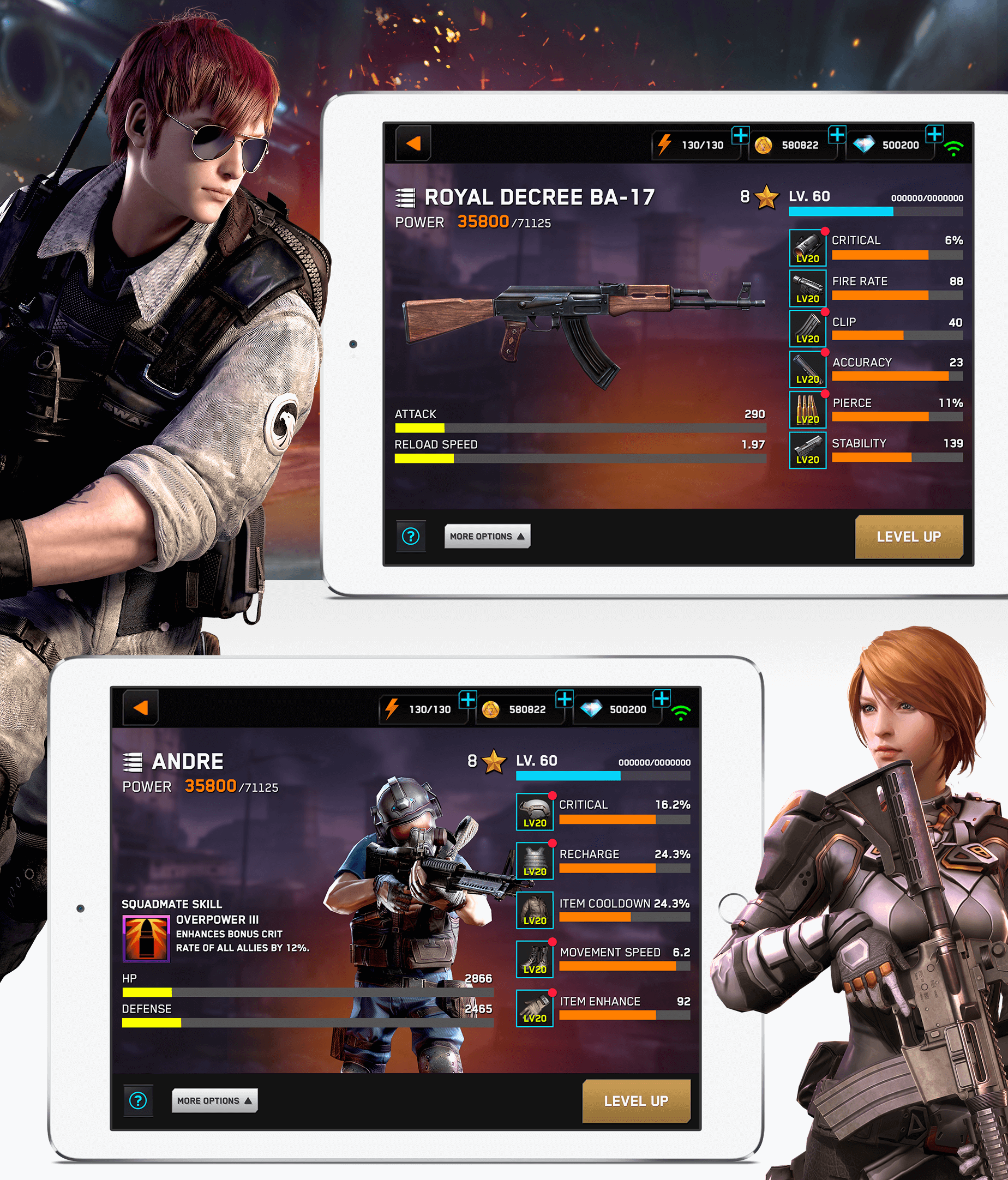 A crucial part to user experience design in a game is fanfare to delight and please a user. Live play tests and user data from beta launches indicated better player retention. Below are a few videos of UI animations and fanfare I designed.
RPG mechanics do not perform well in western mobile shooters. Although these systems have a large depth of player spend and outperformed in eastern markets, they do not do so well with shooter players in the west. Competitive analyses of the top performing mobile shooter games in the west indicated players wanted simpler upgrade loops and gameplay. By simplifying the designs of these existing complex systems in the game, we were able to improve average revenue per daily active user (ARPDAU) for this feature.
[unex_ce_button id="content_4j4hbe9t8,column_content_wqx2li6mn" button_text_color="#d17d00" button_font="light" button_font_size="15px" button_width="content_width" button_alignment="center" button_text_spacing="1px" button_bg_color="#ffffff" button_padding="15px 60px 15px 60px" button_border_width="2px" button_border_color="#d17d00" button_border_radius="0px" button_text_hover_color="#ffffff" button_text_spacing_hover="2px" button_bg_hover_color="#d17d00" button_border_hover_color="#d17d00" button_link="https://app.adjust.com/ee6aos?campaign=WF_iOS_US_Both_Social_PR_CID8215" button_link_type="url" button_link_target="_blank" has_container="" in_column="1"]APP STORE[/ce_button]
[unex_ce_button id="content_4j4hbe9t8,column_content_384skymqp" button_text_color="#d17d00" button_font="light" button_font_size="15px" button_width="content_width" button_alignment="center" button_text_spacing="1px" button_bg_color="#ffffff" button_padding="15px 60px 15px 60px" button_border_width="2px" button_border_color="#d17d00" button_border_radius="0px" button_text_hover_color="#ffffff" button_text_spacing_hover="2px" button_bg_hover_color="#d17d00" button_border_hover_color="#d17d00" button_link="https://app.adjust.com/k2zsph?campaign=WF_Android_US_Both_Social_PR_CID8213" button_link_type="url" button_link_target="_blank" has_container="" in_column="1"]GOOGLE PLAY[/ce_button]