James Bond: World of Espionage
A mobile social strategy game combining elements of collectible card games and multiplayer team battles. Players build up a spy network set in the James Bond universe through completing story-based missions, collecting agents, and crafting gadgets. Then, they compete against other players for supremacy. The game features over 100 new and classic characters from the movies that use real-life models whom we designed, costumed, and photographed.
ROLE 
UI / UX / Art / Motion
UI Style Proposal
The game took two years to develop with a core team of more than 30 people. As one of the UI artists on the team, I created a UI style direction proposal, aiming to replicate the futuristic sci-fi interfaces you find in the current generation of James Bond films. It incorporates glowing lines, information graphics, grids, dials, and intricate animations. Part of the proposal included rough motion tests in Unity (Prototype 1 & Prototype 2) and a base-building interactive prototype.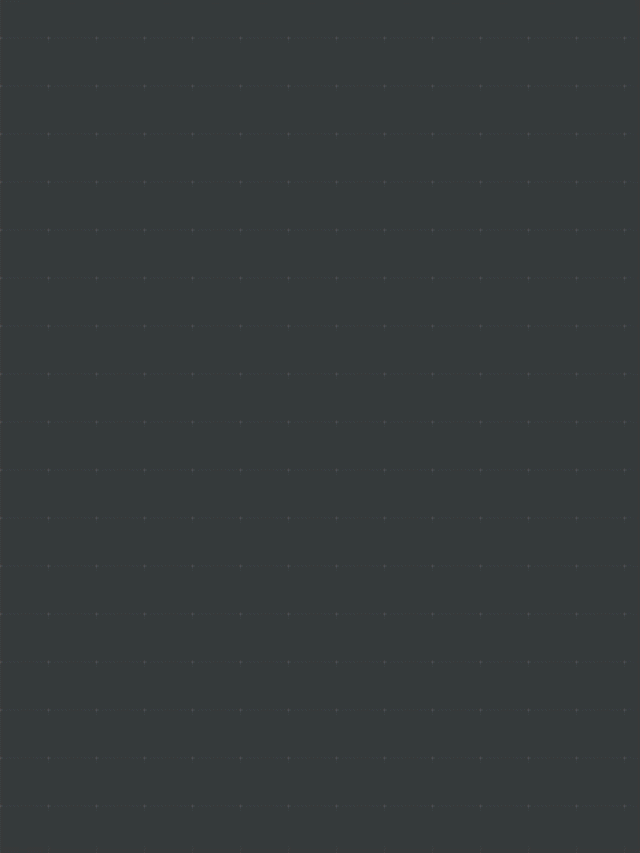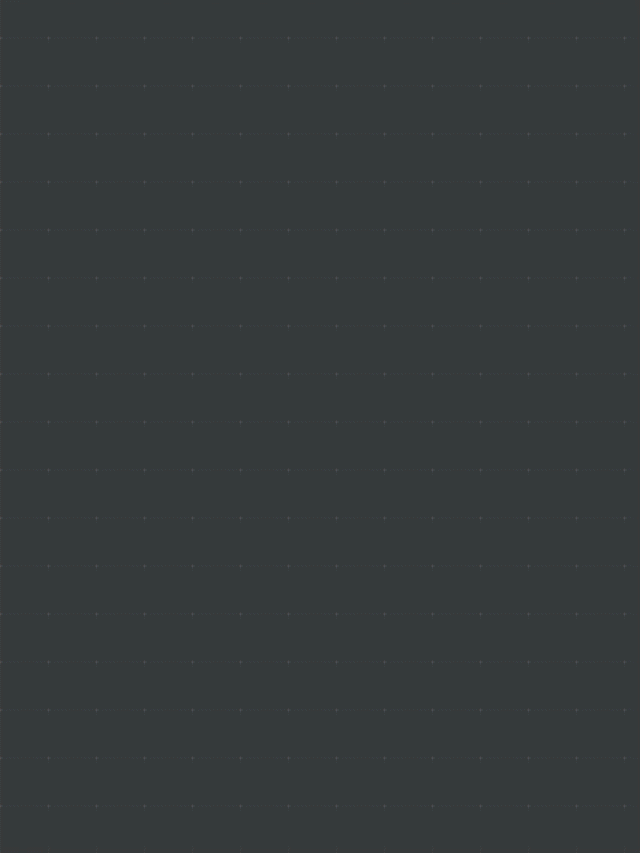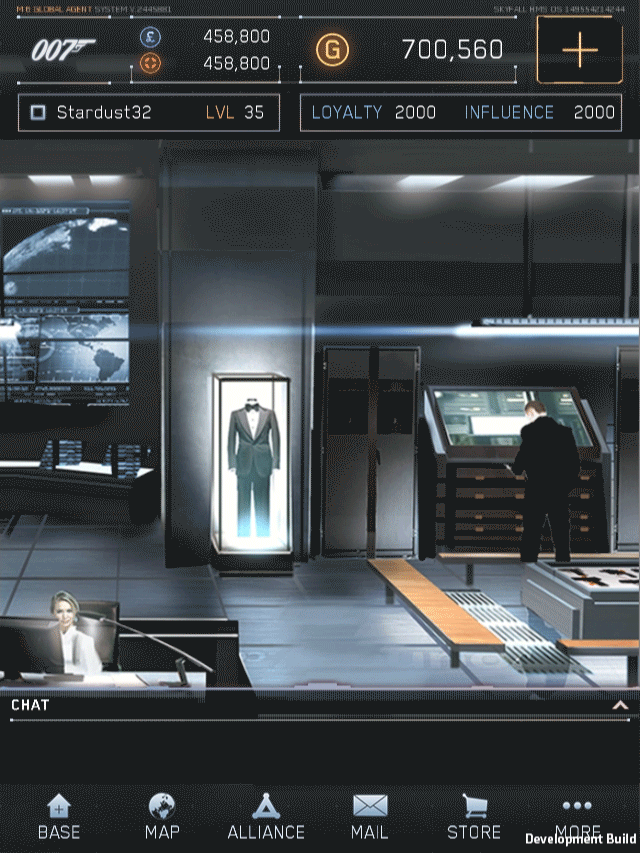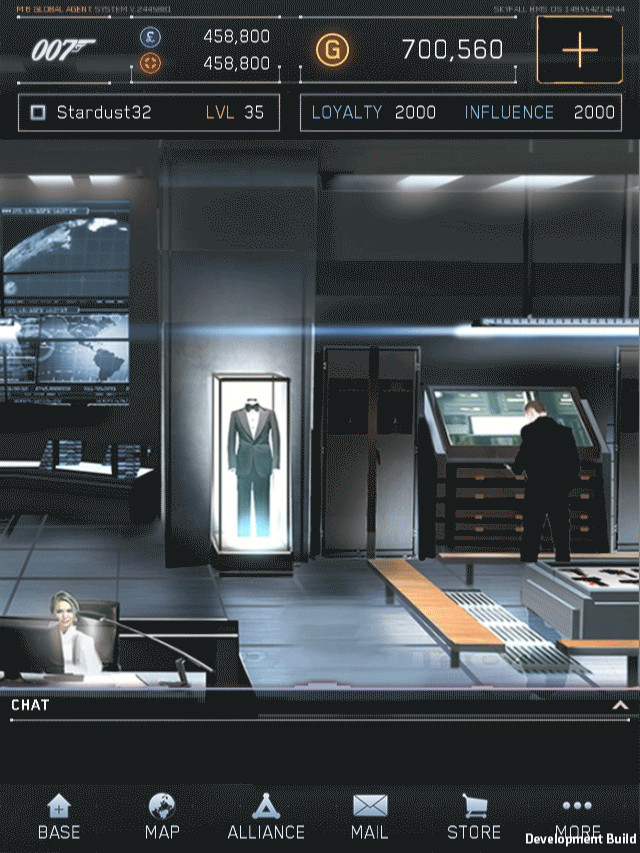 The game's core is a collectible card battler and it involves a lot of button tapping to gain experience points via PvP (Player versus Player), PvE (Player versus Environment), and story-based missions. Therefore, the gameplay lacked live action and it required lots of player engagement through the meta game with art, animations, fanfare, and an emphasis on "collecting" and "leveling up" for casual player retention. Social features like chat, friending systems, alliances, and MMO (massive-multiplayer online) battles also helped player retention. 
The game's design and development was shared accross an international team of game designers, UI/UX designers, artists, producers, and product managers. The majority of design discussion was done online through team collaboration software (Confluence). Two game mechanics I was very involved in designing and developing were the agent evolution and gacha systems.
A common technique for monetization in freemium games is the card collection and fusion mechanic. Many top grossing mobile games employ this technique to generate revenue and drive player engagement. When a player progresses in this game, they collect agents and will receive many duplicates as a result. A fusion mechanic allows players to find value in having multiples of an agent card, because they can "fuse" it with other cards to gain a more powerful card.
Our team arrived on a design for this mechanic based on the below wireframes. When a user arrives at the fusion screen (fusion is branded as "Evolve" in this game), you tap the "Main Agent" box to select an agent card to be "fused." Then, the user taps the two remaining boxes to select the other agent cards to "fuse" into the main card. Once the cards are selected, the player taps "Evolve" to complete the fusion and it is confirmed with fanfare. 
I contributed to the design, created the high-fidelity mock-ups of the system, and implemented the animations in Unity which are exhibited below.
Another common monetization system for freemium games is gacha. It removes direct purchase of cards, by forcing players to attempt to win rare cards through a more random mechanic, like a slot machine spin.
The design goal was to make it feel addictive and to give an illusion of control, so it encourages repeat uses. Once players tap the button to start the gacha process, they are presented with 12 boxes of rotating agents they can win. As the animation slows to completion, agents are randomly selected, depending on the amount of boxes they purchased. The final gacha screen presents the winning cards and it has lots of flashes and excitement to make players feel happy and encouraged to try the process again.
I delivered the final storyboards, prototypes, and the gacha animations in Unity.
Meta game matters.

 Collecting and upgrading game items drives player engagement and revenue more than the actual game itself in a free-to-play game. It is crucial to optimize the player experience of the meta game so it is simple to grasp and satisfying enough for players, especially big spenders, to return.

The illusion of control gives players the confidence to spend in the game.

 The randomness with collecting items may make some people reluctant towards spending money. Moreover, the distribution of items in free-to-play games are typically balanced by a product manager and a game economy designer, so direct control is never given to a player. Giving the illusion of control and positive visual feedback to players through animations and interactions will make people more confident in spending money.